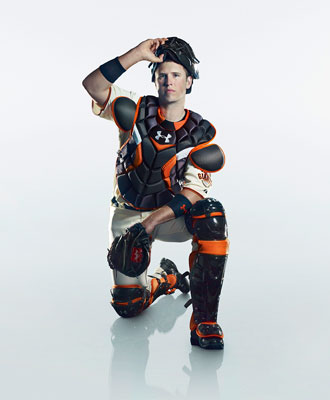 Posey took MLB by storm this season, helping the Giants to a World Series victory.
It hasn't been easy being a Buster. Think about it: Busters are usually pets, mostly dogs, and sometimes you're asked if you're housebroken. People shout, "Hey, watch it, Buster!" as if they're the first to think of it.
Instead I asked about his game preparation. It's what Posey spends most of his day thinking about, meticulously studying film and poring over scouting reports. That's one reason he made it to the bigs as quickly as he did. In 2009, his one full season in the minors, he posted a .947 OPS between Class-A and Triple-A and earned a September call-up. He was promoted for good last May 29 and ripped three hits in his first start of the season, which was just a glimpse of what was to come. At age 23, Posey hit .305, blasted 18 homers and handled baseball's best pitching staff with the savvy of a veteran. In November, his season ended in a champagne celebration. Two weeks later, he was named National League Rookie of the Year.
As a freshman at Florida State, Posey played only shortstop. But during the fall of his sophomore year, Seminoles assistant coach Meat Martin, son of FSU coach Mike Martin, had an idea: Put Posey at catcher. It might be the best thing for him in the long run, Meat said, because he wouldn't have the foot speed to stay at shortstop as a pro. Mike Martin was skeptical. Posey was an All-America shortstop, and Meat wanted to make him a catcher?
It wasn't completely insane. FSU had a hole at catcher and another excellent shortstop in Mark Hallberg (now a D-backs farmhand). So Mike Martin figured he'd at least see the kid catch a few from the crouch. That meant 85 fastballs. "He caught every one," Martin says, "as if he'd been doing that his whole life."
Posey -- who played all nine positions in a game as an FSU junior -- made the switch from short to catcher seamlessly. He was a finalist as a soph for the Johnny Bench Award, given annually to the college game's best backstop. Then he won it in 2008, after hitting an out- rageous .463 with 26 homers in 68 games. Fitting, because Posey might be the best all-around catcher since the award's namesake.
As with quarterbacks, catchers usually take years to develop. Their skills are refined through repetition, like framing pitches to coax an umpire into calling a strike, or blocking balls in the dirt. It also takes time for a backstop to develop a rapport with pitchers. Some young catchers can defer too much, while others are too pushy and take it personally when a pitcher shakes off a sign. And yet Posey immediately demonstrated to the San Francisco pitchers that he was prepared but not overbearing. "You try to get a feel for each guy," he says. "For example, what are they throwing in a 2-1 count against a great fastball hitter? I tried my best to make them confident in what I was doing, knowing each guy is going to be different."
Instead of relying on the heater, a pitch Sánchez threw 65 percent of the time during the regular season, Posey called for off-speed stuff more than 60 percent of the game. He basically turned Sánchez into a junkballer for the rest of the night. Amazingly, the pitcher managed to make it into the fifth, allowing just one more run. It was the Giants' lone loss of the Fall Classic, but the bullpen was saved from six innings of mop-up duty, keeping the relievers fresh for the rest of the series.
Posey has been developing those preter- natural leadership skills for years. As an FSU junior, he was standing by his locker after a tough loss when a freshman teammate shot a grin toward another Seminole. Mike Martin happened to see it and asked, "What's so funny?" As the freshman started to explain, Posey turned and stared at him. "Shut up!" Posey snapped. "Just shut up!" Martin walked out of the room. Posey had done his job for him. The catcher led the Seminoles to the College World Series that June, and then, after signing with the Giants as the fifth overall pick, he received a $6.2 million bonus. Soon after, he walked into Martin's office and handed him a check for $50,000 -- a gift to the Noles baseball program.
When the new players arrived at school the next fall, Martin left Posey's locker untouched, with the nameplate in place. No player better represented the Florida State program, and Martin wanted future generations to follow Posey's lead. It wasn't long after the World Series that Posey was introduced at a Florida State football game, and it occurred to Martin, as he listened to the explosion of cheers, that he'd never heard any Seminoles player, in any sport, greeted so loudly.
I could almost hear Posey's smile two weeks later, when he called around Thanksgiving. He sounded a lot more relaxed than the first time we spoke. The blur of the World Series was behind him; he'd just returned home to Georgia from a vacation with his wife, Kristin. "Hey, Buster," he started. "It's Buster." He paused, and added with a chuckle, "How many phone conversations do you think have started like that?"
Better enjoy the jokes now. Buster will be getting serious again real soon.